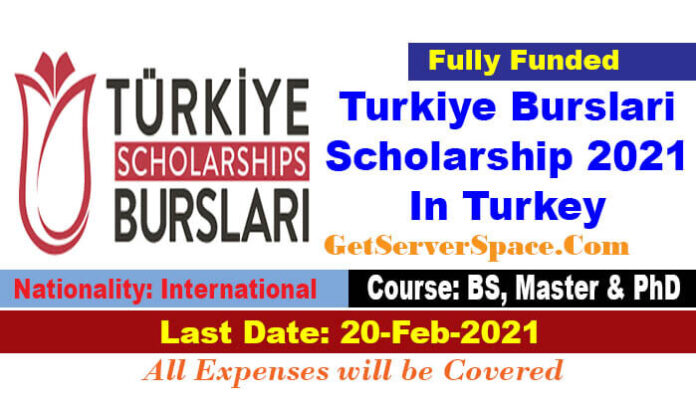 Turkiye Burslari Scholarship 2021 In Turkey For Foreigners [Fully Funded]:
International Students are advised to apply for Turkiye Burslari Scholarship 2021 In Turkey. Students from all the Countries can apply for Fully Funded Scholarship to pursue Undergraduate Degree program, Master's Degree Programs and PhD Degree program. The time period of Türkiye Burslari Scholarship is 4-6 years for BS Degree program, 2-3 years for Master's program and 4 years for PhD program. No Application Fee Will Be Charged from Students as well as all students must have Turkish language course. ILETS or TOFEL Is Not Required. Study is In English Language. All the Major Subjects and Specializations like Engineering, Science, Humanities, Agriculture, Life science and Environment, Engineering, Information, Medicine, Social Science as well as Humanities etc. are available here. You can also apply for: Uppsala University Scholarships 2021 in Sweden For Foreigner Students [Fully Funded]
Türkiye Burslari Scholarship scheme is begin from December for all international students. The Turkish Government offered scholarship for multiple courses every year. The lecture will be in English language or in Turkish language. It will depend on your courses. The time period for BS Degree program is almost 4 years, for Master's degree program is approximately 2-3 years and for PhD degree is 3-4 years. University Provides Outstanding Study environment to their students. It also has well established or well-equipped labs which facilitate their students in study.
Türkiye Burslari offered this scholarship for multidisciplinary courses to the international students. All students can apply for this scholarship to get enrolled in the different universities of Turkey. This scholarship is Fully Funded and coveres all expenses During study. So, Never miss the chance of this scholarship. Complete details related to scholarship are given below:
Brief Description of Turkiye Burslari Scholarship 2021:
Available Degrees: BS, MS & PhD
Financial Support: Fully Funded
Institute:  50+ Universities
Country: Turkey
Funded By: Government of Turkey
Start Date: 10-January,2021
Closing Date:

20 February, 2021
Join Our WhatsApp Group if You not Joined it Already
Stay in Touch & Follow us on our Social Media Platforms to Get Latest Updates for Latest Opportunities. Facebook Page – Facebook Group – LinkedIn
Must Apply For: Stanford University Scholarships 2021 in USA For MS & PhD[Fully Funded]
Check is Also: Khalifa University Scholarships 2021 in UAE For International Students [Fully Funded]
Scholarship Coverage:
This scholarship will cover all expenses of the students regarding their studies. All the international students can get many benefits from this scholarship which are given as follows:
Full Tuition Fee.
Monthly Stipend:

For BS degree program is 700 TL per month
For Master's degree is 950 TL per month.
For PhD Degree Students is 1400 TL per month.

For research program is 3000 TL per month.
Free Residence.
Registration fee
Family Residence is given to Married Students.
Airfare Tickets.
Medical Insurance.
Free lab experiments
Text books
Internship
1-year Turkish language course.
Programs Offered by Türkiye Burslari Scholarship 2021:
Türkiye Burslari offered multiple programs for BS degree, Master's as well as for PhD Programs. The time duration for  BS is 4 years, Master's degree will be 2-3 years and for PhD degree will be 3-4 years. Complete details about programs are given below:
Documentation and Record-Keeping
Economy, Econometrics
Educational Sciences, Comparative Education
Electrical and Electronic Engineering, Telecommunications
Environmental Engineering
Environmental Sciences, Ecology
Finance and Banking
Food Science and Technology
Forestry
General and Comparative Literature
Genetic Engineering
Geodesy, Cartography, Remote Sensing
Geography
Geology
Microbiology, Biotechnology
Museum Studies, Preservation
Nuclear and High Energy Physics
Nursing, Midwifery, Physical Therapy
Optics
Pharmacology
Pharmacy
Philosophy and Ethics
Physics
Political Science, Public Administration
Preschool Education
Psychology
Behavioral Sciences
Public Relations,
Radio/Television/Cinema
Security Studies
Geomantic Engineering
History
Horticulture
Industrial Engineering
Informatics
International Law
International Relations, Field Studies
Islamic Theology
Journalism
Languages
Livestock Breeding
Maritime Engineering and Technology
Marketing and Sale Management
Materials Science
Mathematics
Statistics
Mechanical Engineering
Media Studies
Medicine
Social Services
Sociology and Cultural Studies
Soil and Water Sciences
Special Education
Teacher Education
Tourism, Catering and Hotel Management
Transportation and Traffic Studies
Transportation
Urban and Regional Planning
Veterinary Physician
Zoology
Accounting
Agriculture Economy
Agriculture
Archeology
Architecture
Art History
Astronomy, Physics
Automotive Engineering and Technology
Biochemistry
Biology
Biomedical and Biotechnology Engineering
Botanic
Business and Management
Chemical Engineering
Chemistry
Civil Engineering
Common Law
Computer Engineering
Constitution/Public Law
Dentistry
Design (Graphic Design, Industrial Design, Fashion, Textile)
Development Studies
Study In China: USTC International Scholarship 2021 Under CSC In China[Fully Funded]
Eligibility for Scholarship:
The Following Criteria is need to be Fulfill for This Scholarship:
All the International Students can apply for this Scholarship.
Turkish citizens  are not Eligible.
Also the Students already registered in Turkish universities can not Apply.
For BS degree program, the age of candidate must be less than 21 years
For Master Degree Programs the age of candidate will be less than 30 years old
For PhD Degree Programs, Master's degree is required and the age must be less than 35 years.
Good Academic Record required.
Experience in Research for Master and PhD programs required.
Turkish or English courses must be required.
No criminal record will be there.
Required Documents for Scholarship:
During applying for this scholarship, following documents must be uploaded. Complete details are given below:
Check it :University of Detroit Mercy Scholarships 2021 in USA [Fully Funded]
Closing Date:
Application Start from 10-January 2021 and The closing date for this scholarship is 20 Feb, 2021. So, never miss the chance for getting this opportunity.
Application Procedure for Turkiye Burslari Scholarship 2021:
All Application Process Is Online at this Hard copy is not required. During apply, must read all terms and conditions carefully and must upload all your required documents before closing date. Click On 'Apply Online' and Create Account and Submit application. So, hurry up students. Must apply for this scholarship if you want to fulfill their dreams.