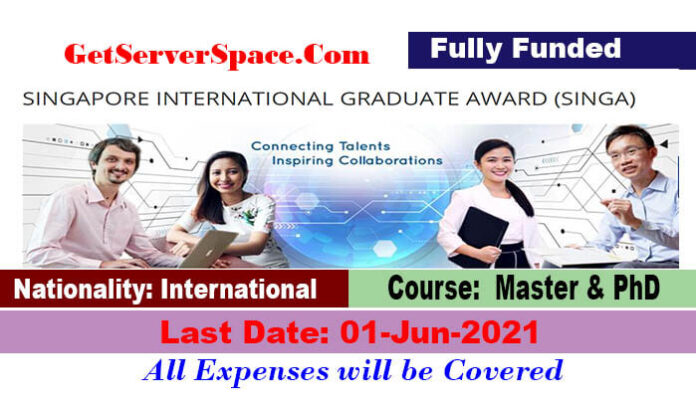 Singapore International Graduate Scholarship 2022 in Singapore[Fully Funded]:
International Students are advised to apply for Singapore International Graduate Scholarship 2022 in Singapore. Students from all over the Countries as well as can apply for Fully Funded Scholarship to pursue their Master Degree Programs and PhD Degrees. No Application Fee Will Be Charged from Students. All the Major Subjects and Specializations like Social Sciences, Engineering, Computer, Business as well as management and Development are available. You can also Apply for: 1000 Global Korea Scholarships (GKS) 2021 In Korea  [Fully Funded]
You'll be studying at one of Singapore's top three universities. Singapore's top three universities, such as Nanyang Technology University (NTU), the National University of Singapore (NUS) and the University of Technology and Design of Singapore (SUTD). The scholarship is funded by the Science, Technology & Research Agency (A*STAR). The courses will be delivered in English.
More than 950 scholarships have been awarded by the Singapore government. About 29,000 requests from over 170 countries have been sent. The Singapore International Graduate Scholarship is known for the program's variety. This year, 240 scholarships will be offered. Never lose this opportunity to study with full Scholarship. Full descriptions of the following lines:
Brief Description of Singapore International Graduate Scholarship 2022:
Available Degrees:

Masters, Masters leading to  PhD & PhD

Financial Support

: Fully Funded

Institute:

NTU, SUTD & NUS 

Scholarship Country:

Singapore

Closing Date:

1st June 2021 
Join Our WhatsApp Group if You not Joined it Already
Stay in Touch & Follow us on our Social Media Platforms to Get Latest Updates for Latest Opportunities. Facebook Page – Facebook Group – LinkedIn
Check: University of Greenwich Scholarship 2021 in UK[Fully Funded]
Must Apply: TDTU International Graduate Scholarship 2021 in Vietnam[Fully Funded]
Scholarship Coverage:
The Singapore Scholarships for Foreign Students is a tuition scholarship that is entirely funded. All costs will be covered by the SINGA Scholarship: 

Complete Fees for Tuition 

Monthly stipend of S$2,000, which will be raised to S$2,500 after the passing of the Qualifying Test 
Up to S$1,500* for one-time Airfare Award
One-time Settlement of S$1,000* in Allowance
Programs Offered by Singapore International Graduate Scholarship 2022:
All The Academic Fields and Specializations are available for Session 2021-22. Te Duration of Master Programs is 2-3 years and for PhD is 3-4 years. The fields of study covered by the PhD program fell roughly into two categories:
Biomedical Sciences; and
Physical Science and Engineering.
For Details of Programs Visit Below Universities Link and find subjects of your choices.
A*STAR Supervisors and Projects 
Eligibility for Scholarship:
All the Following requirements need to be fulfil for Scholarship:
International Students can apply for this Scholarship.
For Master Programs, Undergraduate is Required and the age will be 35 years or less than 35 years.
For Doctoral Programs, Master's degree is required and the age must be 40 years.
Good Academic Record required.
Experienced in Research for Master and PhD programs required.
Required Documents for Scholarship:
Before you submit, prepare the following papers in advance. Do NOT mail to the SINGA Office any hard copy papers. All records required need to be uploaded online. 

Passport: A new photo of the passport-size (in .jpeg or .png format) 

Transcripts & Reports: ALL transcripts must be translated into English 

Academic Transcripts of Bachelor's and/or Master's: Bachelor's Degree certificate(s)/scroll(s) or a university approval letter on your candidacy if your degree certificate/scroll has not yet been awarded. 

Letters of Recommendation: 2 Recommendation Papers (to be completed and submitted online by the referees).
Closing Date:
The Closing date to apply Online for the Singapore Government Scholarships 2022 is 1st June 2021 For International Citizens.
Study in China: USTC International Scholarship 2021 Under CSC In China[Fully Funded]
Application Procedure for Singapore International Graduate Scholarship 2022:
The whole process of applying is online. Students can apply online by reading all of the above directions and planning the appropriate documentation to submit during the application. Before the closing date, students may apply.