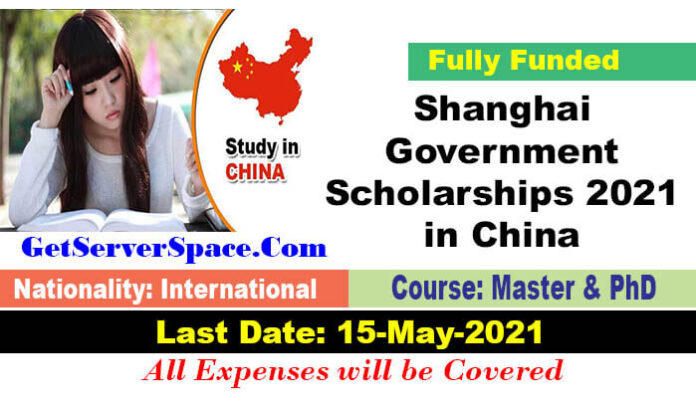 Shanghai Government Scholarships(SGS) 2021 in China [Fully Funded]:
International Students are advised to apply for Shanghai Government Scholarships(SGS) 2021 in China. Students from all over the world can apply for Fully Funded Scholarship to pursue Undergraduate Degree Programs, Master Degree Programs and PhD Degrees. No Application Fee Will Be Charged from Students. All the Major Subjects and Specializations like philosophy, economics, law, education, literature, history, management, science, engineering, agriculture, medicine, and art are available under Shanghai Scholarship. Also Apply For Full Scholarship: Shaanxi Normal University CSC Scholarship 2021 in China for MS & PhD[Fully Funded]
This grant pays up to CNY3500 of complete tuition costs, housing, medical care and monthly living expenses. For the 2021-2022 session, the Shanghai Government Scholarship SGS is open to foreign students to attend higher education at educational institutions in Shanghai, China.
The Shanghai Government Scholarship Known as SGS was started in 2006 with the goal of enhancing the growth of international student education in Shanghai and enabling ECNU to receive more outstanding international students, researchers and scholars. If your last schooling is in English, IELTS is not needed for this scholarship. The English language test is only required for those students who have not obtained their previous education in English. Don't miss this chance for a full scholarship to study. The following lines give full details:
Brief Description of Shanghai Government Scholarships(SGS) 2021:
Available Degrees:

Undergraduate, Master & PhD

Financial Support

: Fully Funded

Institute: 40+ Universities (

List is given below)

Scholarship Country:

China

Closing Date: 15th May, 2021
Join Our WhatsApp Group if You not Joined it Already
Stay in Touch & Follow us on our Social Media Platforms to Get Latest Updates for Latest Opportunities. Facebook Page – Facebook Group – LinkedIn
Check It: University of Tokyo Summer Internship 2021 in Japan[Fully Funded]
Must Apply: World Health Organization (WHO) Internship Program 2021 [Fully Funded]
Scholarship Coverage:
Two forms of scholarships are offered by the Shanghai government. Type A (Complete Scholarship) & Type B (Partial scholarship) 
Type of A (Full Scholarship): 
Total Tuition Fee Excluded, Registration Fee, Lesson Fee 

Free On-campus housing 

Free Comprehensive Medical Care Provision 

Monthly Stipend: 

For Doctoral Degrees: CNY350000 
For Master degree program: CNY3000 
For Undergraduate Programs: CNY250000 
Type B of (Partial Scholarship):
Exempt to have adequate medical insurance for tuition fees.
List of Shanghai universities Under SGS:
Check also: University of Bristol Think Big Scholarship 2021 In UK [ Fully Funded]
Programs Offered by Shanghai Government Scholarships(SGS) 2021:
There are 86 undergraduate programs, 27 master's programs, and 43 doctoral programs for the Shanghai Government Scholarship. The Bachelor's Degree Program takes 4 to 5 years to complete. Master's degree programs require 2 to 3 years to complete. Programs for doctoral degrees are 3 or 4 years.
International Chinese Studies

Advanced International and Area Studies

Politics

Educational Technology

Teacher Education

Educational Psychology

Education Science

Psychology and Cognitive Science

Business, Economics, Management Administration

Finance and Statics

Design

Software Engineering

Computer Science

Chemistry

Molecular Engineering

Chinese Language & Literature

Philosophy

History

Social Development

Foreign Language

Physical Education and Health Care

Communication

Fine Arts

Geographic Sciences

Ecological and Environmental Sciences

Urban and Regional Sciences

Biology

Key Laboratory of Precision Spectroscopy

Estuary and Coastal Research
Eligibility for Scholarship:
Applicants must be people who are not Chinese and in good health. 

Applicants must have a high school diploma for the pre-college curriculum and be under 23. 

Applicants must have a high school diploma and be under 25 years old for the bachelor's degree program. 

Applicants must hold a bachelor's degree and be under 35 for the master's degree program. 

Applicants for a PhD program must hold a master's degree and must be under 40.
Required Documents for Scholarship:
Following documents are required for the scholarship:
SGS online application form
East China Normal University online application form
Educational Certificates (Notarized)
Copy of Passport
Study Plan, Research plan
Research proposal (If Applicable)
Statement of Purpose
2 Recommendation letters
Academic Resume
Physical Examination Form
Acceptance Letter (if applicable)
Proof of Language
Non-Criminal Certificate
Other Supporting Documents (If any)
Closing Date:
15th May, 2021, is the last day to register for the Shanghai Government Scholarship 2021.
Study In Canada: Concordia University Scholarships 2021 in Canada For BS,MS & PhD[Fully Funded]
Application Procedure for Shanghai Government Scholarships(SGS) 2021:
To gain the Shanghai Government Scholarship, please follow the following step-by-step instructions: 

Applicants can register via

http://study.edu.sh.gov.cn/en/ise.html

and submit online. Please make an online request and download the application form. 

Applicants can register and apply online with the university website chosen (List of universities is given above). (List of universities is given above). Send an online application (if applicable). 

After uploading your online application, download the application form and print it out. Mail two sets of rough copies of application papers to the university where you have submitted (1 set of originals and 1 set of photocopies).