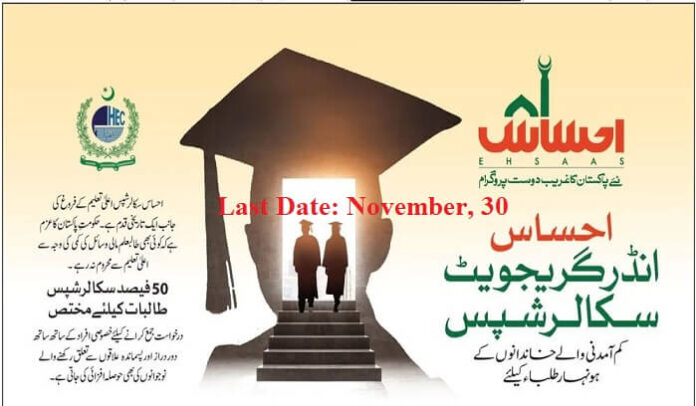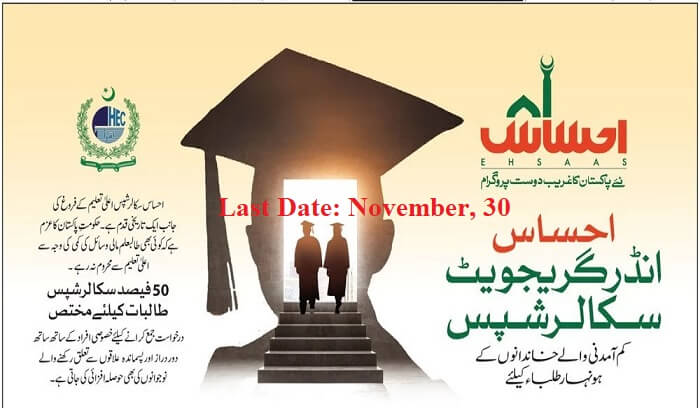 50000 HEC EHSAAS Undergraduate Scholarships 2021-22 Phase III For Pakistanis:
Pakistani Students are advised to apply for 50000 HEC EHSAAS Undergraduate Scholarships 2021-22 Phase III For Pakistanis. Students from all over Pakistan can apply for a Fully Funded Scholarship to pursue Undergraduate Degree programs in all the HEC recognized Universities. No Application Fee will be charged from Students all the application process is free. All the Students who take admission to any Pakistani University in Bachelor's Degrees are eligible for this scholarship. All the academic Fields that are available in universities 4 years programs or 5 years Programs funded by the Government of Pakistan through the EHSAAS Scholarship for Undergraduate Students to those students their parents do not have enough recourses to bear expenses of higher study. Must Apply For UK scholarship: HEC Commonwealth Scholarships 2021 in the UK for Ph.D. Students[Fully Funded]
The Largest EHSAAS Scholarship in the history of Pakistan is offered by the Government of Pakistan for those Students who completed their Intermediate Education. This scholarship supports the students the not have recourses to pursue University Education. EHSAAS Program provided 50,000 Scholarships to talented students all over Pakistan. The total worth of this scholarship is 6 Billion Per year. Next 4-5 years 200,000 Students get Scholarships by this project. Also Check: Yokohama National University MEXT Scholarship 2021 in Japan
All-Academic Fields of education like physical sciences, Social sciences, agriculture, arts and humanities, business education, engineering, medical, and Information Technology are available. All the Expenses tuition fee, monthly Stipend, Books Allowance, medical and traveling will be given. Females Education also focuses on this project so 50% of Scholarships are reserved for females. Also Physically Disabled Students 2% Scholarships quota. Details are available below lines:
Brief Description of 50000 HEC EHSAAS Undergraduate Scholarships 2021-22 Phase III:
Available Degrees: Undergraduate (4 or 5 years Programs)
Financial Support: Fully Funded
Institute: All HEC Recognized Universities
Scholarship Country: Pakistan
Eligibility: Pakistani Students
Total Scholarships: 50,000 Thousands
Closing Date:

30 November 2021
Join Our WhatsApp Group if You not Joined it Already
Stay in Touch & Follow us on our Social Media Platforms to Get Latest Updates for Latest Opportunities. Facebook Page – Facebook Group – LinkedIn
 Visit For Best Scholarship: Chang Gung University Fully Funded Scholarship 2022 in Taiwan 
Apply for Canada Scholarship: Russian Government Open Doors Fully Funded Scholarship 2022
Scholarship Coverage:
University Fee according to University directly paid by HEC.
Monthly Stipend of  4000
Full Tuition Fee
Medical Allowance
All the stipends will be Provided per semester or Annually.
Universities offer 50000 HEC EHSAAS Undergraduate Scholarships:
All students of the Pakistani Universities recognized by HEC are eligible for EHSAAS Scholarship for Undergraduate Students. The list is given below:
List of universities in Punjab:
Lahore College for Women University (LCWU)
Information Technology University Lahore (ITU)
Punjab Tianjin University of Technology-Lahore
GCU-Lahore
Fatima Jinnah Medical University-Lahore
Kinnaird College For Women, Lahore
University of Punjab, Lahore
University of Education Lahore all campuses
University of Home Economics, Lahore
The University of Veterinary and Animal Science Lahore
King Edward Medical University
PFID-Lahore
University of Health Sciences, UHS
UET-Lahore
 Government College Women University, Sialkot
National College of Arts (NCA)
National Textile University -FSD
Rawalpindi Medical University (RMU)
University of Narowal
Fatima Jinnah Women University-Rwp
University of Okara
UET-Taxila
University of Sahiwal
University of Gujrat
University of Sargodha
PMAS-Arid Agriculture University, Rawalpindi
GCU, Faisalabad
GCWU, Faisalabad
UAF, Faisalabad
BZU, Multan
Women University, Multan
MNS UET, Multan
MNS Agriculture University, Multan
Nishtar Medical University, Multan
IUB, Bahawalpur
GSCWU, Bahawalpur
Rawalpindi Women University, Rawalpindi
University of Mianwali
You can Study Free in Qatar University Scholarships 2021 in Qatar For International Students [Fully Funded ].
List of Universities in Sindh:
Shah Abdul Latif University, Khairpur
The University of Karachi
 Dow University of Health Sciences, Karachi
 Institute of Business Administration, Karachi
 BBSUTSD) Khairpur Mirs
 Liaquat University of Medical & Health Sciences Jamshoro
 MUET JAMSHORO
Peoples University of medical and health science, Sindh
 NED, Karachi
 The University of Sufism and Modern Sciences, Bhitshah
Shaheed Zulfiqar Ali Bhutto University of Law, Karachi
Shaheed Benazir Bhutto University Benzirabad Nawabshah
Sindh Agriculture University, Tandojam
Sukkur Institute of Business Administration, Sukkur
Benazir Bhutto Shaheed University Lyari, Karachi
 Dawood UET Karachi
QUEST Nawabshah
List of Universities KPK:
Abdul Wali Khan University
University of Swat
University of Malakand
University of Lakki Marwat
Hazra University Mansehra
University of Peshawar
University of Chitral
University of Science & Technology, Bannu
Bacha Khan University
IMS Peshawar
Islamia College Peshawar
UET Peshawar
University of Haripur
Khushal Khan Khattak University, Karak
UoT Nowshehra
KUST Kohat
University of Buner
AUST Abbottabad
Khyber Medical Peshawar
Gomal University
FATA University, Kohat
 Agriculture University Peshawar
 Women University Mardan
 UET Mardan
 Women University Sawat
List of universities in Islamabad:
NDU-Islamabad
NUML, Islamabad
National University of Medical Sciences, Rawalpindi
NUST, Islamabad
NUTEC-Islamabad
PIEAS-Islamabad
Air University, Islamabad
Bahria University, Islamabad
Islamic International University (IIUI)
Institute of Space Technology, Islamabad
Quaid-E-Azam University, Islamabad
SZAB Medical University, Islamabad
COMSATS-Islamabad
List of universities in Baluchistan:
Sardar Bahadur Khan Women University Quetta
University of Turbat
 University of Loralai
Balochistan University of Information Technology, Engineering and
Management Sciences(BUITEMS), Quetta
UET Khuzdar
The Lasbela University of Agriculture Water and Maring Sciences Uthal
Bolan University of Medical and Health Sciences. Quetta
University of Balochistan, Quetta
List of Universities in Azad-Jamu-Kashmir (AJ&K):
Women University, Bagh, AJK
 University of Poonch, Rawlakot
MUST, Mirpur, AJK
AJKU, Muzaffarabad
Kotli University, Kotli, AJK
For Some Other Eligible Universities and Campuses: Visit Link
Eligible Students for Scholarship:
To be eligible for EHSAAS Scholarship for Undergraduate Students, Candidates have to fulfill the following criteria:
Students that Secured admission to any Public sector university.
For Admission, the student has fulfilled the admission criteria of the University in which he/she want to study.
Degree programs recognized by the HEC.
Students who must be Completed the Intermediate examination are eligible.
Age limit defined by the institute.
Students Not Eligible For Scholarship:
Students is ineligible for the scholarship if they
Availing other scholarships before.
Students who took admission in distant learning programs and affiliated colleges both public/private.
Admission on a self-Base/ self-support/ self-finance basis, or in evening programs with higher fee structures is not eligible.
Required Documents for Scholarship:
Copy of applicant CNIC or B. Form.
Copy of Father, Mother, or Guardian CNIC.
Salary Slip or Income Certificate of Father/Guardian, Mother.
In the case of Laborers' children, then attach undertaking stamp paper of Rs.50 as an Income Certificate.
Copies of last Six Month Utility Bills like Electricity, Gas, Telephone, Water.
In the case of the Rented House Copy of Rent agreement.
Copies of Previous Fee Slips of Applicant and his Siblings.
Copies of Medical bills
01 Passport size Photograph of Applicant with Blue Background.
01 Picture of House from Front Side.
Also, Apply for This Scholarship: KAIST Undergraduate Fully Funded Scholarship 2022 in South Korea
Closing Date:
Students Face Some Issues because Universities have not completed admission still and do not Issue Registration Numbers to students. Due to these Circumstances, HEC Extended the Last Date for Submission Online Applications of 50000 HEC EHSAAS Undergraduate Scholarships till 30 November 2021
Also Apply For This Scholarship: King Abdulaziz University Scholarships 2021 in Saudi Arabia [Fully Funded]
Application Procedure For 50000 HEC EHSAAS Undergraduate Scholarships:
All students are required to apply online and submit the application form.
For online Application Register on HEC Portal Then Apply step by step.
Applicants are required to submit hard copies of the application form along with the documents to the financial aid office of the university before the deadline.
The university will shortlist all candidates who fulfill the eligibility criteria, based on the information provided in their applications, and who have provided all the information under the rules such as proof of family income, past academic record, age correctly will be selected.
An incomplete application will be rejected.
Apply Carefully before the Last date

30 November 2021

.
Note: During applies not to Do any mistake because the application is rejected if you made mistake. This Video helps you to Apply online without any Mistakes.