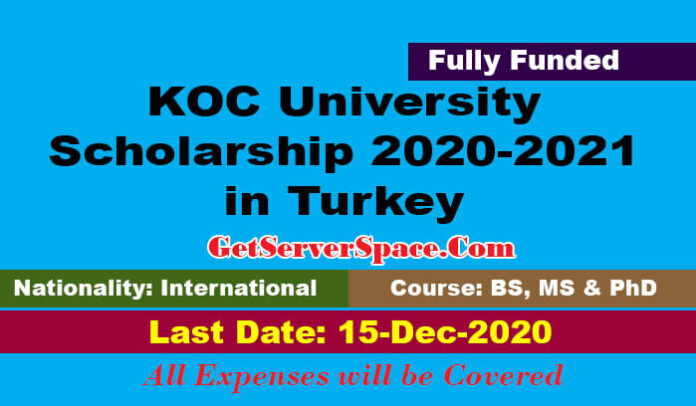 KOC University Scholarship 2020-2021 in Turkey For International Students:
International Students are advised to apply for KOC University Scholarship 2020-2021 in Turkey. Students from all the Countries as well as from Turkey can apply for Fully Funded Scholarship to pursue Undergraduate Degree Programs, Master Degree Programs and Doctoral Degree Programs. No Application Fee Will Be Charged from Students. All the Subjects and Specialization like Sciences, Social Sciences, Life Sciences, Business, Computer, Arts, Law, Technology, Engineering Fields are available  for BS, MS & PhD Degree. All the Study in English So ILETS are Not Required.
KOC University Private and Non-Profit Research University in Turkey which offered different interesting Degree Programs. KOC University was established in 1993 and It is located in Istanbul, Turkey. The World Ranking of KOC University is 465th according to QS world Ranking of Universities. It is a top ranked university of Turkey providing many benefits to their students regarding their Scholarship. Turkey is considered as place of Education for foreigner students.
All International students can apply to get this Golden chance of Scholarship for 2020-2021. Applications are now open for them who want to get this scholarship. KOC University Not Required Separate Application for this scholarship. If you will selected for admission in this university then automatically you will get this opportunity of scholarship. Never miss the chance of this scholarship.  Complete Information regarding this Scholarship are given below:
Brief Description of KOC University Scholarship 2021:
Available Degrees: BS, MS & PhD
Financial Support: Fully Funded
Institute: KOC University of Turkey
Scholarship Country: Turkey
Closing Date: 15 December, 2020
Join Our WhatsApp Group if You not Joined it Already
Stay in Touch & Follow us on our Social Media Platforms to Get Latest Updates for Latest Opportunities. Facebook Page – Facebook Group – LinkedIn
Study In China: Renmin University Scholarship 2021 Under CSC In China [Fully Funded]
Also Check This Scholarship: Doha Institute Scholarships 2021 For Maters Degrees In Qatar [Fully Funded]
Scholarship Coverage:
KOC University provide all benefits to the selected students during their study. The time duration of scholarship is 4-6 years for BS Program, 2-3 years for MS Programs and 3-4 years for PhD. All foreigner students get the following opportunities:
Full Tuition Fee
Monthly Stipend
Free Residence.
Airfare Tickets.
Medical Insurance.
Accommodation
Laptop
Travel grants
Programs Offered by KOC University:
Multiple programs are offered by KOC University. Some are mentioned here:
MBA
Tech MBA
Executive MBA
MSc Finance
Business Administration
Archaeology and History of Art
History and Society
Design, Technology and Society
Economics
International Relations and Political Science
LLM Private Law
LLM Public Law
Psychology
Social and Cultural Psychology – Global MINDS
Sociology
History
Biomedical Sciences and Engineering
Chemical and Biological Engineering
Computational Sciences and Engineering
Computer Science and Engineering
Electrical and Electronics Engineering
Industrial Engineering and Operations Management
Chemistry
Materials Science and Engineering
Mathematics
Mechanical Engineering
Molecular Biology and Genetics
Optoelectronic and Photonic Engineering
Physics
Medical Physiology
Medical Microbiology
Reproductive Biology
Reproductive Medicine
Neuroscience
Cellular and Molecular Medicine
Nursing
List of Undergraduate Programs: Visit Link
List of MS and PhD Programs: Visit Link
Eligibility for Scholarship:
If there is anyone who is needy person for this scholarship then he/she can apply for this scholarship. After selection, they will get many benefits like books, living expenses, tuition fee, dormitory etc. following terms and conditions can fulfil the requirements of scholarship:
All the Foreigner Students and Citizen of Turkey can apply for this Scholarship.
For BS Programs, 12 years Education is Required.
For MS Degree, Bachelor degree is Required.
For PhD Degree, candidate Should be Completed their Masters.
Good Academic Record is compulsory.
Experienced in Research for Master and PhD programs is required.
Required Documents for Scholarship 2021:
There is compulsory for the candidate to upload all the documents during filling their application form which are mentioned below:
For BS Programs, certificate of 12 years Education is required.
For MS Program, Transcript of BS is required.
For PhD Degree, Transcript of MS is Required.
Passport for International Students.
Short Resume or CV is also required.
Motivational letter or Statement of purpose is also mention in their application form.
Study plan or Research Proposal for Master and PhD is also required.
Two Recommendation Letters are required.
English Proficiency Certificate from last institute.
Closing Date:
The Ending date to apply Online for the KOC University Scholarship 2021 is 15th December, 2020 For Bachelor, MS students and 31st December, 2020 for PhD Students.
Application Procedure for KOC University of Turkey Scholarships 2021:
The application submission process is online for KOC University scholarship. Students must read all the information related to this scholarship. As you apply for the scholarship, then visit the official website of KOC University. So hurry up students, never miss this golden chance to get this scholarship and apply before deadline.
Apply For Undergraduate Scholarship: Visit Link
Apply for Master And PhD Programs: Visit Link