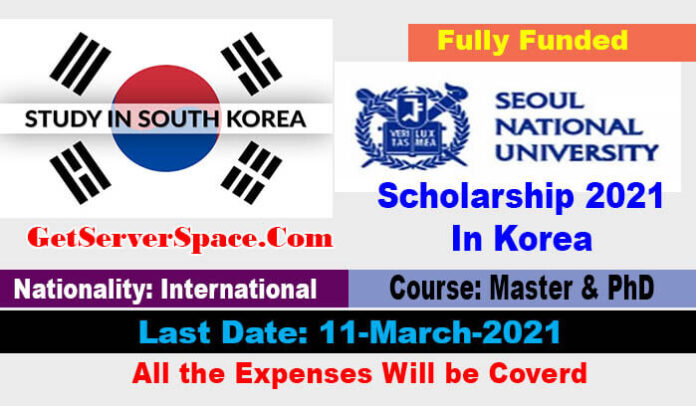 Seoul National University Scholarship 2021 In Korea [Fully Funded]:
International Students are advised to apply for the Seoul National University Scholarship 2021 In South Korea. Students from all the Countries can apply for the Fully Funded Scholarship to pursue their Master Degree Programs, PhD Degrees and MS leading to PhD. No Application Fees Will Be asked from any Student. All the Academic Fields and Specialization are available for Session 2021-22. You can also apply for: Commonwealth Shared Scholarships 2021 in UK [Fully Funded]
Seoul National University is one of the world's most renowned universities. SNU University is officially ranked 37th in the world and first in South Korea. Humanities, Social Sciences, Natural Sciences, Business Management, Agriculture, and Life Sciences, Education, Human Ecology, Public Administration, Environmental Studies, Foreign Studies, Architecture, Medical Sciences, and Humanities, among others, are among the academic fields offered by Seoul University. All nationalities are eligible for SNU Scholarship. Also apply to: Netherlands Government Scholarship 2021 in Holland [Fully Funded]
All costs will be paid by the university. The SNU Scholarship is a full-fledged award. If your most recent education was in English, IELTS is not required for this scholarship. Only students whose previous education was not in English are expected to take an English Language exam. Never give up the opportunity to graduate with a full scholarship. Detailed  Information can be found in the lines below:
Brief Description of Seoul National University Scholarship 2021:
 

Available Degrees:

Masters/MPhil and Ph.D. MS leading to Ph.D

Financial Support

: Fully Funded

Institute:

Seoul National University

Scholarship Country:

South Korea

Closing Date:

11th March 2021 
Join Our WhatsApp Group if You not Joined it Already
Stay in Touch & Follow us on our Social Media Platforms to Get Latest Updates for Latest Opportunities. Facebook Page – Facebook Group – LinkedIn
Check: Gwangju Institute of Science and Technology Scholarship 2021 In Korea
 Must Apply: Beijing University of Technology Scholarship 2021 in China [Fully Funded]
Scholarship Coverage:
Scholarships from Seoul National University will pay all costs for foreign students. There are 330 scholarship opportunities . 
Tuition Fee 

Full Living Costs 

Airfare price. 

For One Year Medical Care,

Research Fund, 

Study Printing Costs, 

Settlement and Return Expenses, and 

One Economy Round Trip 

Korean Language Teaching Fee
Programs Offered by Seoul National University:
SNU has a single Graduate School that offers 99 programmes in five areas of study.
Humanities, 

Social Sciences, 

Natural Sciences, 

Business Administration, 

Agriculture, 

Life Sciences, 

Education, 

Human Ecology, 

Public Administration, 

Environmental Studies, 

International Studies, 

Engineering, 

Medical Sciences & Arts
How to Contact a Professor?
Professors are the most significant source of support. You must email professors in your related fields/majors. How do you do it? Read on for more information. In Korea, acceptance letters from professors are not required. 
If professors plan to financially support you for tuition costs and a monthly stipend in their emails, that means they can finance their students, so there is no reason to apply for acceptance letters. Only keep him in the know while filling out the university's application form, and if he approves, keep him updated.
Check: Singapore University of Technology Scholarship 2021 In Singapore[Fully Funded]
How to contact professors, Read below:
Fill out the university's application form only if any teachers plan to pay for the tuition and living expenses. If no professors approve, it is best not to apply; but, if you can pay the application fee, go ahead and apply. 

If you give your weak and meaningless CVs to professors without including a body in the email, please stop. You will certainly be dismissed, but you will also give the feeling that everyone in your country is the same as you.

And one thing is certain: if you are bad to someone, you will still be bad to yourself. So, after reading the guides and carefully reading professor profiles, write a nice email and note how you can be helpful to his lab and with your research CV. I hope you get constructive feedback and, as a result, apply for entrance.
Eligibility for Scholarship:
The student and his/her parents are not Korean nationals, but he/she has completed a comparable standard of schooling. 

A bachelor's degree or higher is required for master's and combination master's and doctoral programmes. 

Doctoral: The candidate must have at least a master's degree. 

English Proficiency Proof
Required Documents for Scholarship:
Research proposal and Personal Statement 

Two Recommendation Letters from Two Separate Recommenders 

Transcript and official Bachelor's Certificate of Graduation 

Official Master's Certificate of Graduation and Transcript (required for doctoral applicants) 

A photocopy of the applicant's passport is required. 

Government documents confirming the applicant's citizenship 

Passport copies of both parents 

Official paper showing the nationality of both spouses. (if married)
Closing Date:
The Closing date to apply Online for the Seoul National University Scholarship 2021 is 11th March 2021 For International Citizens.
Study in Canada: University of Ottawa Scholarships 2021 in Canada [Fully Funded]
Application Procedure for Seoul National University Scholarship 2021:
The application process is completely online, and you must read the Application Guide for more information. Please visit the Seoul National University's official website to read more about the process and to apply for SNU Scholarship.